Placenames, and some personal names, from northern Livonia, 13-17th centuries.
by Rebecca Lucas (ffride wlffsdotter)
© 2014; all rights reserved
last updated 29 October 2017
---
Introduction
Although these names (except for a single example from Metsepole) are all from the area today called Estonia, the situation from the 13th century onwards was more complex. The Duchy of Estonia was the northern part of Old Livonia, and included the area of modern-day Harju county was under Danish rule from the 13th century, until it was sold to the Teutonic Order in 1346. To the north-west of the Duchy lay the Bishopric of Ösel–Wiek, including modern day Lääne county, which primarily used German and Latin in written communication before 1560. It was then sold to Denmark (who also regained the Dutchy of Estonia), and in 1561 became a part of the Swedish empire during the Livonian War (Raun, 1991). This is reflected in the placenames below, which use Old Swedish by, modernly byr, or farm.
In central Estonia, Pärnu county's area was divided between the Bishopric of Ösel–Wiek and the Teutonic Order. Jõgeva was administered by the Teutonic order, along with Viljandi. Tartu belonged to the Hanseatic League, until joining the Polish-Lithuanian commonwealth in 1569. In the south, Võru county was also territory of the Teutonic knights, along with the county of Metsepole, today in northern Latvia. In the modern counties of Põlva and Võru, were from the mid-16th century a part of the Duchy of Livonia within the Polish-Lithuanian Commonwealth, until the area was also conquered by Sweden in the 1620s.

Often I was unable to determine what language the original scribes were using. These placenames may have been recorded in Latin, Danish, middle Low German, Swedish and possibly Polish, Ruthenian or Latin.
Sources
These names come from four articles, and one thesis:
Mariko Faster 2012. "Veekogude ja teekonnaga seotud kohanimesid Eesti lõunapiiril" Emakeele Seltsi aastaraamat [Place names motivated by water and waterways on the southern border of Estonia] 58; 39-57.
Mariko Faster 2009. "Obscure place name elements ura and ora in South Estonian" Linguistica Uralica 55(4); 299-306.
Riina Juurik 2007. "Vanemast asustusest ja teedest Edela-Eestis: Saarde ja Häädemeeste kihelkonnad" [Early Settlement and Communication in South-western Estonia: Saarde and Häädemeeste parishes] Baccalaureate thesis, University of Tartu.
Marja Kallasmaa 2011. "Probleeme Samastamisega: Saltovere ja Kowrevere" [Problems with identification: Saltovere and Kowrevere] Emakeele Seltsi aastaraamat 57; 60-65.
Tiina Laansalu 2010. "Asustusnimed Kiili Vallas" [Settlement names in Kiili municipality] Emakeele Seltsi aastaraamat 56; 109-126.

As these articles only provided a few place names and personal names each, it seemed sensible to combine them into a single article for our purposes. To assist people who are interested in a particular area, the extracted names have been grouped by modern county, and then sorted alphabetically. Please refer to the Estonian Institute's map of administrative divisions in Estonia and major cities, or the simplified map below, to see the areas this article covers: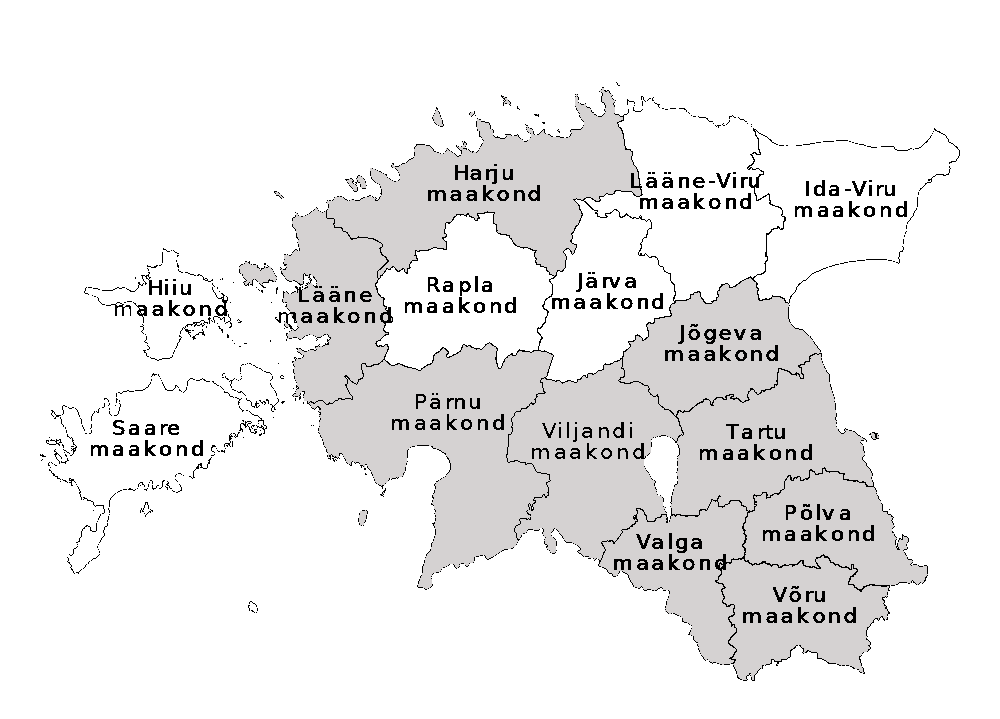 Above: Modern counties of Estonia. Image from Wikipedia, derived from January 2006 data provided by the Estonian Land Board.
Placenames
Northern Estonia
Harju County
(Taken from Laansalu, 2010)

Lääne County

Kurevere
Kurna
Lähtse
Mõisaküla

Moises (1241) Latin
Mosenkull (1548)
Moysenküll (1388)

Nabala
Padiküla
Paekna

Paeykenna (1541)
Paikenall (1444, 1478, 1493)
Pakikanal (1241) Latin
Paykenal (1481)
Paykenalle (1349)

Sausti
Sõgula
Sõmeru
Vaela

Waiolæ (1241) Latin
Waile (1368)
Wayllakulle (1547)


Note: Names have been marked as Latin when they are known to have come from the Danish census book Liber Census Daniæ.

Kõera (Kallasmaa, 2011)
Salevere (Kallasmaa, 2011)

Saleuere By (1591) Swedish

Taebla (Faster, 2013)

Taybell (1530?)
Taybile (1341)
Central Estonia
Jõgeva County
(Faster, 2012)

Pärnu County

Tartu County
(Faster, 2012)

Viljandi County

Tõivere

Taywer (1599)
Teiwer (1583)
Teyfer (1624)

Häädemeeste (Juurik, 2007)
Ikla (Juurik, 2007)
Jäärja (Juurik, 2007)

Buerings Gutt (1624)
Hof Gerger (1442)
Jeiurge (1341)
Jerrever (1560)
klein Hoefeken Jerwer (1599)

Kaasiku (Juurik, 2007)
Kanaküla (Juurik, 2007)
Kärsu (Juurik, 2007)
Kiisa (Juurik, 2007)
Kikepera (Juurik, 2007)

Kickeber (1624)
Kickefer (1601)

Kikka? (Juurik, 2007)
Koeri (Kallasmaa, 2011)

Karauer By (1591) Swedish
Karefer by (1565) Swedish
Kogerevere (1320)
Kowrevere (1319)

Laiksaare (Juurik, 2007)

Laixar (1638)
Layksar (1601)
Layxer (1624)

Lanksaare (Juurik, 2007)
Nepste (Juurik, 2007)
Possa (Juurik, 2007)
Räägu (Juurik, 2007)
Ristiküla (Juurik, 2007)

Ristekulle (1601)
Rystekil (1624)
Rytikylle (1638)

Salevere (Kallasmaa, 2011)

Sallafer (1624)
Sallover (1543)
Sallufer (1638)
Szallover (1534)
Saltovere (1319)

Sigaste (Juurik, 2007)

Siggast (1638)
Siggass (1624)
Ziggese (1601)

Tahkuranna (Juurik, 2007)
Tauste (Juurik, 2007)

Taust (1638)
Tauweste (1601)
Tawustekil (1624)

Tihemetsa (Juurik, 2007)

Duekenes (1624)
Duekenesche Wacke (1624) German
Tickenisse (1599)
Ticonas (1560)
Tignitsa (1563)

Tõrsepa (Juurik, 2007)

Tarassar (1624)
Tarresser (1638)

Urissaare (Juurik, 2007)

Hurisar (1601)
Urriser (1624)

Uuluta (Juurik, 2007)
Veelikse (Juurik, 2007)

Felix (1638)
Raulast (1624)

Väljaküla (Juurik, 2007)

Villikul (1560)
Willokille (1624)
Willukylle (1638)

Võiste (Juurik, 2007)

Kärkna

Falckenaw (1408)
Valkana (1305)
Valkena (1341, 1417)
Valkanha (1542)

Valguta

Walgata (1638)
Walgats Külla (1626)
Walgets Külla (1626)
Walkuth (1582)

Karksi (Juurik, 2007)

Boeklers unter Karries (1624)
Sara (1624)
Sarakandt (1624)

Pati (Juurik, 2007)

Pappitack (1638)
Papiste (1624)
Pappetekulle (1601)

Reinsalu (Juurik, 2007)

Koerxar (1624)
Reines (1560)
Reiness (1601)
Reinsekil (1624)

Sammaste (Juurik, 2007)

Sammast (1638)
Sammest (1601)
Sampsar (1560)

Soosaare (Juurik, 2007)
Taevere (Faster, 2012)

Taifer (16th c., 1638)
Teyfer (1509/1601)
Southern Estonia
Metsepole County
(Juurik, 2007)

Põlva County

Valga County

Võru County

Note that Metsepole is today in Latvia, but at the time was part of Livonia.

Kolbergi (Juurik, 2007)
Veriora (Faster, 2009)

Mustjõe (Faster, 2012)

Fursche Beche (1627)
Fyrische beche (1638)
Мустовери [Mustoveri] (1561)
Scharra (1627)
Schwartze beche (1638)
Schwartzbeche (1627)
Thaywa (1627)
Trekata [Треката] (1564)
Vchtikulle Jegge (1638)
Note: there is also a Mustjõe village in Võru county.
Mustjõe is Estonian for "black river", which is reflected in the middle Low German names (modern Schwarzbach).


Pedeli (Faster, 2012).

Podel (1369)
Podelis (1383)

Sangaste (Juurik, 2007)
Taheva (Faster, 2012)

Thaiwenkul (1582)
Tayuen (1551)
Tayues (1551)
Taywa (1627)
Wacke Tayewes (1541)

Theal (Faster, 2012)

Teal (1638)
Theal (1638)
Teubel (1627)
Theol (1627)
Thewal (1582)
Thoyvell (1499)
Touvel (1379)

Valga (Faster, 2012)

*Panitora (Faster, 2009)

Паниковичи [Panikovichi] (1561)
Панитора [Panitora] (1561)
Panitura (1627, 1630)
Pannitura (1627)
Pantura (1638)
Pantza (1638)
Panytura (1638)
Ponitora (1585)
Ponitura (1586)
Note: Panitora village no longer exists, hence the modern Estonian form has been reconstructed.

Saru (Faster, 2012)

Saaramoyse (1627)
Sara Moysa (end 16th - early 17th c.)
Sarck (1529)
Sarge (1542)
Sarwe (1638)
Sarwehof (end 16th - early 17th c.)
Sarwehoff (1638)
Tzargo (1449)
die Wacke Sargo mit dem Dorf (1419)
die Wacke zu Sarrega mit dem Dorf Sarrego (1386)
die Wacke zu Tzergo (1443)
Note: Modern Estonian mõis is "manor" or "estate". Middle Low German Wacke means "area" (Grimm & Grimm, 2014).
Personal names
Kallasmaa and Faster together mention eight individuals with bynames, all male:
Descriptive byname.

Pre-pended locative bynames.

Post-pended locative bynames.

Oraff Lauer (1624/1627)

Orava, Võru County (Faster, 2009)
Orav is Estonian for squirrel. Faster (1999; 203) says that Lauer was the namesake of the village.

Korakuyla Iuri (1543)

Koeri, Pärnu County (Kallasmaa, 2011)
Note the use of Estonian küla or 'village', making him Iuri of Koeri village.

Orwa Marth (1592)

Unknown meaning (Faster, 2009)

Sallastfer Juergen (1624)

Salevere, Pärnu County (Kallasmaa, 2011)

Ian Kere (1539)
Andres Kere (1539)

Kõera, Lääne County (Kallasmaa, 2011)

Perto Sallover (1539)

Salevere, Lääne County (Kallasmaa, 2011)

Thidericus de Walco (after 1286)

Valga County (Faster, 2012), all these examples are in Latin.
References